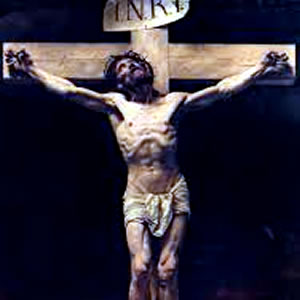 'CRUCIFIXION'
Crucifixion is a method of capital punishment in which the victim is tied or nailed to a large wooden beam.
The victim is left to hang for several days until eventual death from exhaustion and asphyxiation. The crucifixion of Jesus is a central narrative in Christianity, and the cross (sometimes depicting Jesus nailed onto it) is the main religious symbol for many Christian churches. The English term cross derives from the Latin word crux. The Latin term crux classically referred to a tree or any construction of wood used to hang criminals as a form of execution. The term later came to refer specifically to a cross.
1516 views · 3 hrs ago | Tag Type:
Keyword
---
Search Results for 'CRUCIFIXION'


Videos on 'CRUCIFIXION' (50)
News Items on 'CRUCIFIXION' (1)
DESCENDING DATE ORDER
The

Crucifixion

is Just as Important as the Resurrection
Patheos
CRUCIFIXION
RESURRECTION
356 views · 2 hrs ago · Published: 13 Apr 2017 | 1 of 1
Articles on 'CRUCIFIXION' (3)
DESCENDING TITLE ORDER
Bible NT - Codex Sinaiticus exposes 312 year gap since Jesus

crucifixion
CODEX
CRUCIFIXION
1522 views · 24 mins ago · Published: | 1 of 3
Jesus -

Crucifixion

in the Gospels
GOSPEL
CRUCIFIXION
1962 views · 9 hrs ago · Published: | 2 of 3
Jesus -

Crucifixion

Timing
CRUCIFIXION
2174 views · 10 hrs ago · Published: | 3 of 3
The above search results may not be entirely accurate or suitable. All video search results are automatically generated using a string matching technique. This requires finding strings and/or phrases that match a pattern approximately, rather than exactly.
Search again?
.