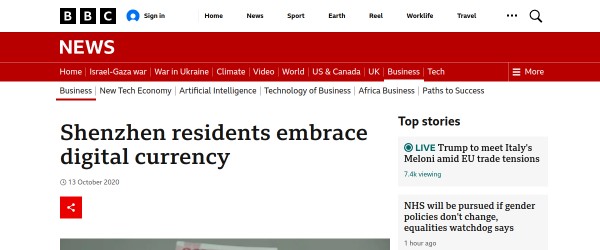 Live Screenshot
---
sign-in
Tuesday, 13 October 2020
BBC NEWS
A trial of the currency proves popular, as China's central bank prepares to launch it later this year.
Original Page Description
85 views · 8 hrs ago
https://www.bbc.co.uk/news/business-54519326
will automatically open in a new window in 10 seconds
DISCLAIMER All news items are for educational purposes only. The news content is hosted on the external news website. News item titles are derived from the original news title, news content, dialogue, speech or general content theme. The above News Title may be edited and optimized for SEO, keyword density, information and internal website search purposes. You are advised to view the original news item for a better understanding. If you spot any mistake, omission or to report abuse kindly
contact us
.
Results:
9 News Items
Displayed in Date Order (most recent first)
1. China, Shenzhen trials digital currency, in move towards a

Cashless

society
BBC News
Published: 13 Oct 2020 | 86 views · 0 secs ago
2.

Cashless

Dystopia: Pay With Your Face In California, USA
Activist Post
Published: 29 Aug 2020 | 24 views · 3 days ago
3. Australia's big four banks remove ATMs and shut down branches in move towards

cashless

society
MSN
Published: 17 Aug 2020 | 25 views · 11 hrs ago
4. Trust Stamp: Africa to roll-out 'Biometric ID' Vaccine &

Cashless

System
Mintpress
Published: 10 Jul 2020 | 55 views · 6 days ago
5. Australia could be

Cashless

in two years
ABC
Published: 08 Jun 2020 | 84 views · 11 hrs ago
6. Coronavirus & The War On Cash: Push For

Cashless

Society
ZeroHedge
Published: 14 Apr 2020 | 140 views · 5 days ago
7. Coronavirus, Australia: Fear of contaminated money push

Cashless

payments
The Guardian
Published: 08 Apr 2020 | 110 views · 22 hrs ago
8. Cash usage drops 50% in UK due to Coronavirus.

Cashless

society coming?
Altfi
Published: 26 Mar 2020 | 87 views · 1 week ago
9. The China That Emerges After Coronavirus Will Be A

Cashless

Society
TWA
Published: 20 Feb 2020 | 78 views · 6 days ago
20
Videos with
'Cashless'
---