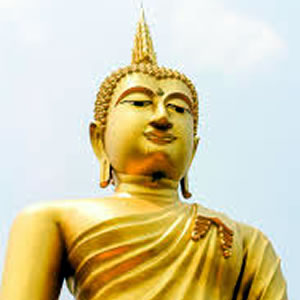 Buddhism is the world's fourth-largest religion with over 520 million followers, or over 7% of the global population, known as Buddhists.
An Indian religion, Buddhism encompasses a variety of traditions, beliefs and spiritual practices largely based on original teachings attributed to the Buddha and resulting interpreted philosophies. Buddhism originated in Ancient India as a Sramana tradition sometime between the 6th and 4th centuries BCE, spreading through much of Asia. All Buddhist traditions share the goal of overcoming suffering and the cycle of death & rebirth, either by the attainment of Nirvana or through the path of Buddhahood.
1486 views · 2 days ago | Tag Type:
Keyword
---
Search Results for 'BUDDHISM'



Videos on 'BUDDHISM' (3)
19:40
1513
1456185600
1634545807
His father's books turned him to Islam from Buddhism
001180
1
5:50
1738
1482192000
1634524413
What does Islam say about Hinduism and Buddhism? - Shabir Ally
000350
2
9:27
1214
1504438372
1634508139
Exploring Buddhism - Shabir Ally
000567
3
News Items on 'BUDDHISM' (1)
Results:
1 News Items
Displayed in Date Order (most recent first)
The above search results may not be entirely accurate or suitable. All video search results are automatically generated using a string matching technique. This requires finding strings and/or phrases that match a pattern approximately, rather than exactly.
Search again?
.