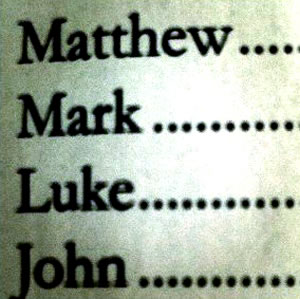 The resurrection is the Christian belief that, after being put to death, Jesus rose again from the dead
In fact, the resurrection of Jesus is central to Christian theology. If Jesus was not 'Resurrected', Christianity would cease to exist. Paul confirms this fact in his writings:
And if Christ be not raised, your faith is vain; ye are yet in your sins
The table below compares Jesus' Resurrection narrative across the gospels of Mark, Matthew, Luke and John.
CREDIT
http://debunkingchristianity.blogspot.co.uk/2012/06/matthew-and-guards-at-tomb.html
4666 views · 46 mins ago | Author: Guest • Updated: 10 Aug 2019
ALL ARTICLES ARE INTENDED FOR GENERAL EDUCATIONAL PURPOSES ONLY. ALL INFORMATION IS BELIEVED TO BE CORRECT, ACCURATE AND TRUTHFUL. YOU ARE ADVISED TO DO YOUR OWN RESEARCH. ARTICLES ARE LIVE DOCUMENTS AND MAY BE UPDATED WITH NEW CONTENT AT ANY TIME. WHERE AVAILABLE, SOURCES AND REFERENCES ARE CREDITED. IF YOU SPOT ANY ERRORS, OMISSIONS OR GIVE FEEDBACK KINDLY
CONTACT US
WITH DETAILS
61-jesus-resurrection-gospels
---
42
Videos with
'Resurrection'
Results:
4 News Items
Displayed in Date Order (most recent first)