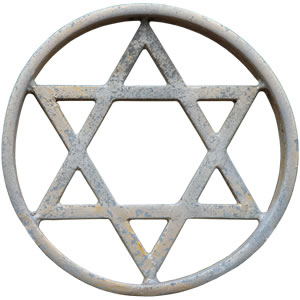 Judaism is the religion of the Jewish people.
It is an ancient, monotheistic, Abrahamic religion with the Torah as its foundational text. It encompasses the religion, philosophy, and culture of the Jewish people. Judaism is considered by religious Jews to be the expression of the covenant that God established with the Children of Israel. Judaism encompasses a wide corpus of texts, practices, theological positions, and forms of organization. The Torah is part of the larger text known as the Tanakh or the Hebrew Bible, and supplemental oral tradition represented by later texts such as the Midrash and the Talmud. With between 14.5 and 17.4 million adherents worldwide, Judaism is the tenth largest religion in the world.
2827 views · 5 days ago | Tag Type:
Keyword
---
Search Results for 'JUDAISM'



Videos on 'JUDAISM' (56)
News Items on 'JUDAISM' (3)
Results:
3 News Items
Displayed in Date Order (most recent first)
Articles on 'JUDAISM' (1)
DESCENDING TITLE ORDER
Judaism

- Maimonides 13 Principles of Jewish Belief
JUDAISM

56
MAIMONIDES

3
5295 views · 5 hrs ago · Published: | 1 of 1
The above search results may not be entirely accurate or suitable. All video search results are automatically generated using a string matching technique. This requires finding strings and/or phrases that match a pattern approximately, rather than exactly.
Search again?
.