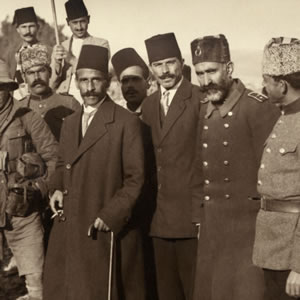 The Ottoman Empire historically known in Western Europe as the Turkish Empire or simply Turkey.
This was a state that controlled much of Southeast Europe, Western Asia and North Africa between the 14th and early 20th centuries. After 1354, the Ottomans crossed into Europe, and with the conquest of the Balkans, the Ottoman beylik was transformed into a transcontinental empire. The Ottomans ended the Byzantine Empire with the 1453 conquest of Constantinople by Mehmed the Conqueror.
518 views · 3 hrs ago | Tag Type:
Keyword
---
Search Results for 'OTTOMAN'



Videos on 'OTTOMAN' (5)
News Items on 'OTTOMAN' (1)
Results:
1 News Items
Displayed in Date Order (most recent first)
The above search results may not be entirely accurate or suitable. All video search results are automatically generated using a string matching technique. This requires finding strings and/or phrases that match a pattern approximately, rather than exactly.
Search again?
.