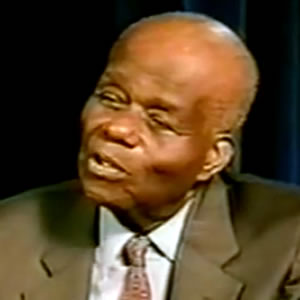 John Henrik Clarke (born John Henry Clark, January 1, 1915-July 12, 1998), was an American historian.
He was a professor, and a pioneer in the creation of Pan-African and Africana studies, and professional institutions in academia starting in the late 1960s. Clarke was a professor of Black and Puerto Rican Studies at Hunter College of the City University of New York from 1969 to 1986, where he served as founding chairman of the department. He also was the Carter G. Woodson Distinguished Visiting Professor of African History at Cornell University's Africana Studies and Research Center. Additionally, in 1968 he founded the African Heritage Studies Association and the Black Caucus of the African Studies Association.
1064 views · 9 hrs ago | Tag Type:
Name
---
Search Results for 'JOHN HENRIK CLARKE'



Videos on 'JOHN HENRIK CLARKE' (5)
The above search results may not be entirely accurate or suitable. All video search results are automatically generated using a string matching technique. This requires finding strings and/or phrases that match a pattern approximately, rather than exactly.
Search again?
.