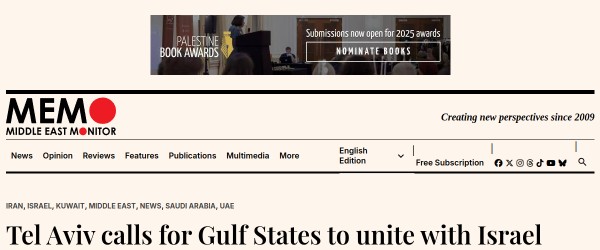 Live Screenshot
---
Tel Aviv calls for Gulf States to unite with Israel against Iran – Middle East Monitor
Saturday, 11 January 2020
MEMO
Former Israeli communication minister, Ayoob Kara, has called for the Gulf States to form a security and economic 'union' with Israel, to stand against Iran at all level, Shehab News Agency report...
Original Page Description
384 views · 3 days ago
https://www.middleeastmonitor.com/20200111-tel-aviv-calls-for-gulf-states-to-unite-with-israel-against-iran
will automatically open in a new window in 10 seconds
DISCLAIMER All news items are for educational purposes only. The news content is hosted on the external news website. News item titles are derived from the original news title, news content, dialogue, speech or general content theme. The above News Title may be edited and optimized for SEO, keyword density, information and internal website search purposes. You are advised to view the original news item for a better understanding. If you spot any mistake, omission or to report abuse kindly
contact us
.
Results:
9 News Items
Displayed in Date Order (most recent first)
17:14
3684
1520764958
1634433944
In Psalm 83, is Israel and USA going to war with Palestine, Iran, Iraq, Lebanon, Jordan, Egypt and Syria?
001034
1
0:49
1359
1529776899
1634435016
3 Iranian 'Wise Men' skilled in Astrology followed the Star to Baby Jesus - John Dominic Crossan
000049
2
8:19
2117
1546568768
1634407136
The War Hungry Leech will never give up until Syria and Iran are destroyed - Leo Muhammad (NOI)
000499
3
---